Cooking Safety Basics
2/4/2022 (Permalink)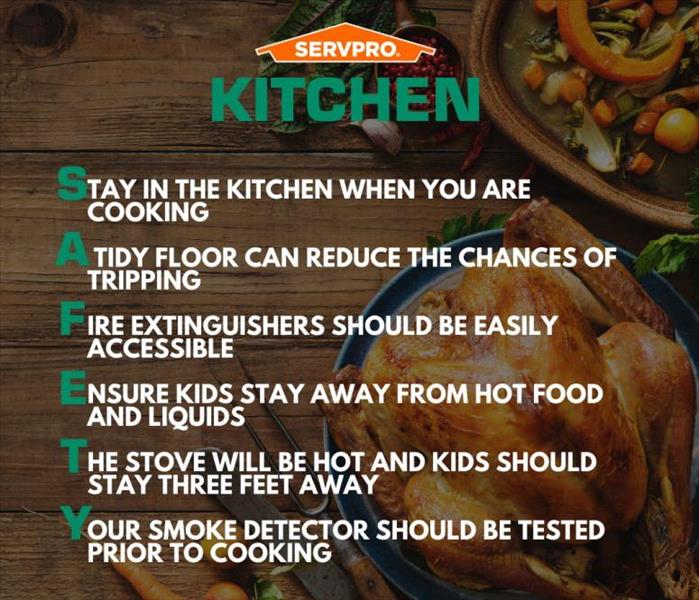 Cooking
Cooking fires are the leading cause of home fires and household fire injuries. Unattended cooking is the leading cause of these fires, most of which start with the ignition of common household items including grease, paper, cabinets and curtains.
Cooking Safety Basics
Never leave food unattended while it's cooking on the stove, and closely monitor food cooking in the oven
Maintain a clean and tidy cooking area that is free of items that catch on fire easily, such as cloth (curtains, potholders, towels, etc.), paper (cook books, food packaging, newspapers, etc.), and plastic (food packaging, storage containers, etc.)
Roll up your shirtsleeves, or wear short, tight sleeves while cooking, so your clothes don't accidentally hang onto stove burners and catch fire
Always keep a potholder, oven mitt, and lid on hand
Never use a wet potholder or oven mitt, in order to avoid scalding when the moisture in the cloth heats up
Never plug microwaves into extension cords, and never microwave metal containers or tinfoil
Keep children and pets away from cooking areas
For more information on safe cooking check out this Cooking Safety Fact Sheet from the National Fire Protection Association.
In the Event of Stovetop Fire:
If the fire is small and contained in a pan, put on an oven mitt and smother the flames by carefully sliding the lid over the pan
Turn off the burner
Don't remove the lid until it is completely cool
Never pour water on a grease fire
Never discharge a fire extinguisher onto a pan fire since it can splatter burning grease out of the pan and spread the fire
In the Event of Oven Fire:
Turn off the heat
Keep the oven door closed to prevent you and your clothes from catching fire
Notify other occupants, and evacuate the building
Call the fire department
In the Event of Microwave Fire:
Keep the microwave door closed
Unplug the microwave to remove the source of heat
Notify other occupants, and evacuate the building
Call the fire department