DIY Cleaning in the Urban Eastern Honolulu Area
10/31/2021 (Permalink)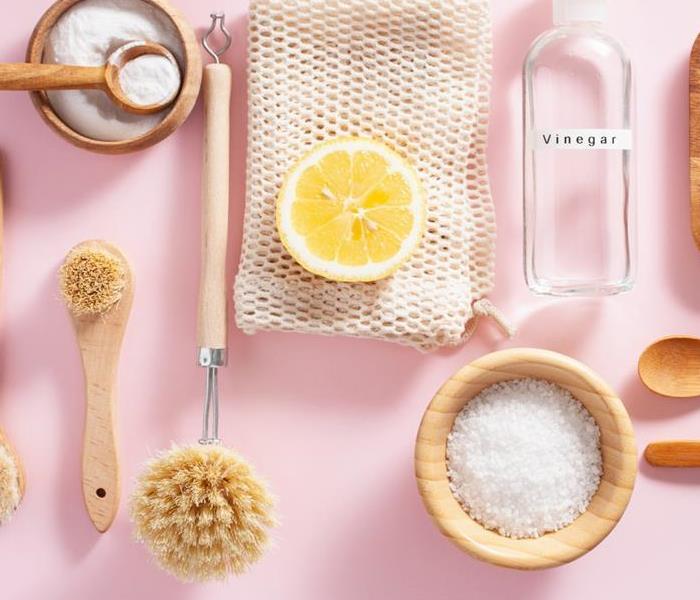 There are always new products coming in and out of the product, chemicals are being taken on and off lists of cleaning approval with the more data present. Some of us with allergies, pets, children, or other sensitivities can not always buy products with bleach in it and hope for the best.
Additionally some of these products are not very effective for the nefarious chores you use it for. Like bleach products- the drying time of chlorine is very short; therefore bleach may not always clean your surfaces. It dries way too quickly for porous surfaces like wood, grout, and other organic materials. This is because the time needed to seep into the surface of the furniture being cleaned is cut in half with some chemicals and their properties.
Bacteria can be killed with UV light, there are so many different ways to properly, effectively disinfect your space whether it is residential or commercial. One of those ways can be naturally, saving you money and also another step to a more sustainable future. Sustainability to the new cornerstone of our everyday life. Here are some common household ingredients that can also be used to clean!
Lemon
Lemons are one of the most effective ways to clean because of the acidic nature of lemons. This is also not a very hard fix as many sprays, chemicals, and solvents often use citrus aromas for a satisfactory clean. Lemons are a great way to add a fresh scent around, cutting lemons in half and placing them around your house is one of the best ways to deodorize. You can polish your furniture, clean your drain, use it for everyday wiping surfaces and more. Lemons are one of the most natural ingredients that is found in chemical sprays for cleaning anyway this is an easy ingredient to incorporate. You could even clean your microwave by using lemon juice with water, heating it up the condensation will clean most of your staining. Another way is by wettering the surface of your cutting board, adding some salt enough for texture on the board, and then going in with half a slice of lemon and scrubbing the salt. This cleans your board, and also deodorizes it.
Coffee Grounds
This is another deodorizer that is not commonly mentioned when one thinks about natural or DIY cleaning products. Coffee grounds have a bigger range of jobs than that of lemons or even the later baking soda. Coffee grounds can be used to re-stain furniture, deodorize fridges, cleaning/deodorizing pipes and sinks and also cleaning your hands or dishes. Another way is to also put coffee grounds on fire ashes, spills or even puke. The coffee grounds soak up the moisture and stop the smell in its tracks.
Baking Soda
Baking soda is one of the oldest natural cleaning solutions since the 1950s, this basic powder is a great product for all kinds of cleaning, sanitizing and deodorizing. It is also pretty reactive with a few ingredients that can be to the advantage of the person cleaning. Because this chemical is from a basic nature it tends to destroy organic molecules that tend to be acidic. This means that baking soda breaks down dirt, malodorous odors, grease, and other alkane molecules. One of the best ways to use baking soda that isn't with lemon is for your carpet, sprinkling some baking soda on top of your carpet and then waiting for a few hours. Deodorizes and thus cleans all the residue left from foot oil, matter found from your shoe...etc.
There are numerous ways to clean a commercial or residential space, SERVPRO of East Honolulu proudly uses solvents only endorsed by the EPA and are friendly to the health of organisms that use the building. There are a lot of misconceptions when it comes to cleaning, especially naturally. Think about incorporating them into your cleaning routine, for a refreshed scent, and happier lungs.
Call us with any questions, comments, or concerns at (808)395-9545, we are a locally owned franchise. We are here for our community- our customers, be more sustainable and environmentally conscious today! Starting with cleaning your counters with a little bit of lemon water instead of bleach.