How We Remove Pet Odor and Stains from Carpets in East Honolulu
11/30/2021 (Permalink)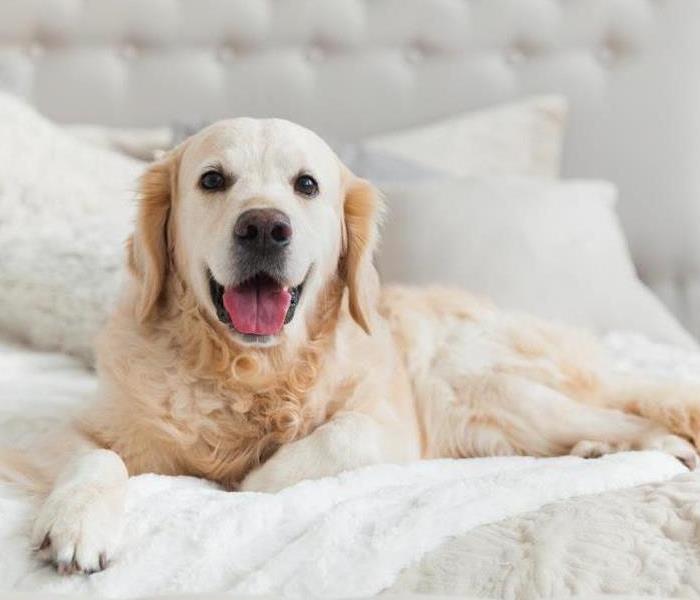 It is never fun as a property owner or pet owner alike to find any kind of animal urine and fecal matter in your home.
The hale is a place of gathering and rest, and pet urine can kind of mess up that vibe and be frustrating to deal with.
Many different kinds of animals have nefarious hormones, enzymes, and other biochemicals that they excrete which often stay in the air and stain. Consequently continuously stinking up your property with urine, usually of a dog or cat sort.
There can be even more to deal with if you feed your animals human food, human food is made, cooked with, and has oils. These oils- although welcome and unforiegn to our diet- our foreign to animals. It is unnecessary for them, on the occasion of salmon oil, or coconut oil…etc it is nutritious.
Alas, these oils secrete out of animal urine, just like ours; and
The main reason for smell issues historically with human discretion, is the food we consume.
It will get increasingly easier to guess where your animal peed outside because of the smell that comes from eating average human foods, like hamburger steak, or meatballs with spaghetti sauce.
As pet owners and technicians alike, SERVPRO of East Honolulu understands the frustrations that can occur when you are a pet owner. Pets are living, breathing organisms that deserve an overall good quality of life like you; but there is a conceptual and linguistic barrier that often creates fecal matter in the living room, or active defecation while petting them. Leaving you miserable and frustrated often impedes our connection with our animals. We clean carpets efficiently and successfully, and are no strangers to bad odors that accrue from pet urine.
Here is our step to step process of odor:
After going through the necessary steps with our wonderful office ladies, we deep clean your carpets and your soft goods affected by the malodorous scent.
The way we deep clean carpets is like anyone with a carpet cleaner but with our secret ingredient a deodorizing agent. When placed on top of organic scent molecules it breaks down the molecule consequently its ability to create scent. This is crucial to our process, as it scientifically gets at the problem of natural odors that occur from pet waste.
After cleansing your carpets- this not only includes odor but dirt, soot, pollutive particles, and stains. Our technicians will finish the job with an ozone machine that will finish our job in the home. This ozone machine is a deodorizer as well, it is an ionizing machine that releases free radical oxygen molecules from ozone compounds- O3. When these free radicals interact with the environment it clings to dirt and pollutants in the air, something we also use after mold remediation or other biohazard. The way the ozone reacts is similar to its reaction with UV rays in the stratosphere. This also chemically breaks down the molecules so your environment is truly clean and everyone in your property can breathe happily.
And if all else fails we know how to replace carpet, and have contractors who know carpentry like the back of their hand. Our crews can expertly haul your old, stinky carpet away and our contractors find the carpet you want and artfully replace your space. "Like it never even happened."

SERVPRO of East Honolulu is a locally owned and operated business that only employs the community of East Honolulu. We are a tight knit community that includes furry companions! We know the home and commercial properties, and we know how to maintain them especially in Hawaii. Where there might be elemental variables not present in other places SERVPRO franchises operate. Call us with any questions, comments, or concerns at (808) 395-9545.