Electrical Outlet Guidelines // SERVPRO of East Honolulu
2/15/2022 (Permalink)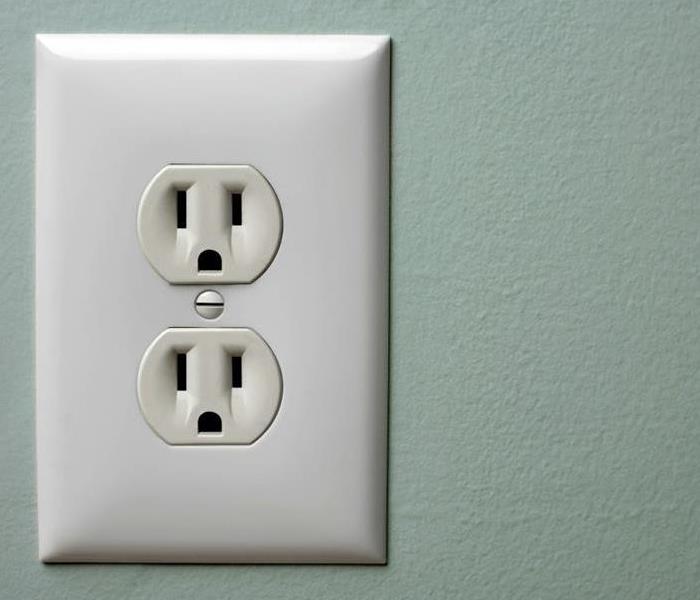 Electrical outlets are not one size fit all, as conveniently thought because they are all the same size.
Outlets can vary in the strength of electricity and the allocation of energy when various things are plugged into it. It may seem like only something that happens in the movies- outlets faltering- but it is very common for outlets to short circuit when too many high power devices are plugged into its source.
It is important to ask yourself questions about the capabilities of your outlet and also the power needed to charge your device. Some cables are considered lightning bolt chargers as they put in mass amounts of electricity to power a device for a shorter amount of time. Learning the nuances of both your appliances and your property will save you time and money.
Creating more stable appliances- that last longer and do not electrically cause fires. The second leading cause for fires in the home are electrical appliances.
Keep your ohana safe and away from this statistic by being knowledgeable about the products you have.
It is imperative to understand the notions that cause electrical fires as such one can be an educated consumer. Inevitably weeding out the bad products and overall leading to an increased quality of life.
It is very common for electrical fires to happen in apartments and other mass residency buildings because of the inefficiency of electrical wires. Often these wires become misplaced, replaced improperly or a whole slew of other issues that could possibly trigger them to malfunction.
Electrical wires are extremely sensitive to nefarious efforts done by occasional electricians who want to go home early. On top of that, outlets and extension cords are other leading issues today for electrical fires.
Thus, when using these conventional modern items it is important to not overheat it, or mis-use it in any way shape or form.
One should closely monitor all appliances plugged in, even the fridge, microwave, and oven that are constantly plugged in. Frequently checking in on these devices creates a conscious consumer who would be able to identify when wear and tear occurs on your device. This monitoring and consistent check ups prevent mishaps from even happening.
When using outlets make sure that the appliances always have the three prongs fully inside the outlet and plugged in directly to a wall outlet or an extension cord. Appliances that are known to use mass amounts of energy such as refrigerators, ice boxes, freezer chests, and tvs should be plugged directly into the wall rather than an extension cable.
These cables occasionally do not have the capacity of holding these bigger appliances, and much less more after that. Overloading outlets is a mitigatable issue when you learn the electrical capacity charges of all tools influenced such as the appliance, the wall outlet, extension cord… etc.
And all while one is actively ensuring that electrical fires do not arise nonetheless it may still happen. From anything like an emergency, a state issue with power out of your control or a mere accident.
That is why we proudly serve our community of East Honolulu. SERVPRO of East Honolulu recognizes that life gets in the way and almost always happens on its own design.
You can trust us with any natural emergency, and we have dealt with our fair share of electrical disasters. We can and will restore your home. "Like it never even happened." Call us with any questions, comments, or concerns at (808) 395-9545.