Hoarding- the unknowing biohazard and its stages
7/2/2021 (Permalink)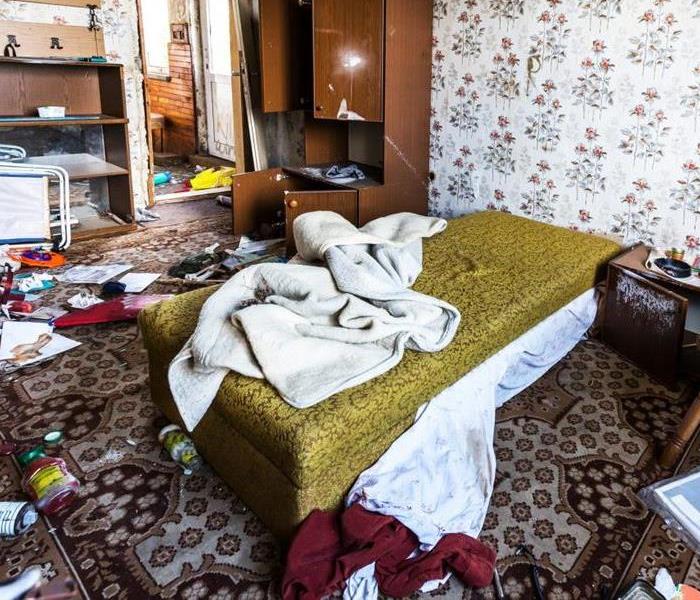 Hoarding can be a biohazard due to its very nature which consists of keeping any or all things. Such as trash accruing bacteria or blood from tissues these can be very hazardous to one's ohana and the community.
In some gravely important biohazard cleanups SERVPRO of East Honolulu has seen animal/human fecal matter, or mounds of trash with rotted food.
The official definition to exist as a compulsive hoarding, as to the International OCD Foundation, possesses these three qualities.
A person collects and keeps a lot of items, even things that appear useless or of little value to most people,
These items clutter the living spaces and keep the person from using their rooms as they were intended
These items cause distress or problems in day-to-day activities.
These qualities are actively in the works whilst living in a cluttered home, or with existing stages of a hoarder. Once stripped to the bone the inner cognition exists in 3 stages; the clutter, the clots, and finally the clogs. They are not isolated incidents, and they're are probably numerous clogs co-existing with nearby clutter edging a developed clot.
Clutter:
Once clutter exists this is the door to obsessive hoarding. Clutter exists in most homes, the day is over too quickly or too slowly. Life drudges on, and you wake up one day with no access to the kitchen sink. Full of forks, knives, coffee mugs being put off until a newer you has the means to accomplish the task. Indication of clutter in these parameters is when these clusters are disorganized, trash, clothes, and other culminated gewgaw. You can still the floor, but you can not see the method behind the madness.
Clot:
The clot arises when the clutter is not addressed. Amassed during a 6 month period unattended in any notion. This is when hoarders are too anxious about the clutter that transpires to this.
Clog:
This is when the clot rises to be a true menace, blocking rooms or obstructing daily infrastructure. I digress that when this happens it is not an unfixable problem. SERVPRO of East Honolulu has the protective gear, cleaning products, and capable technicians who can get rid of these most troublesome times. This is when bio-hazard is most prevalent.
As always we are available for emergencies 24/7, call us after 911 at (808) 395-9545