Water Damage on Your Ceiling, Now What?
12/20/2020 (Permalink)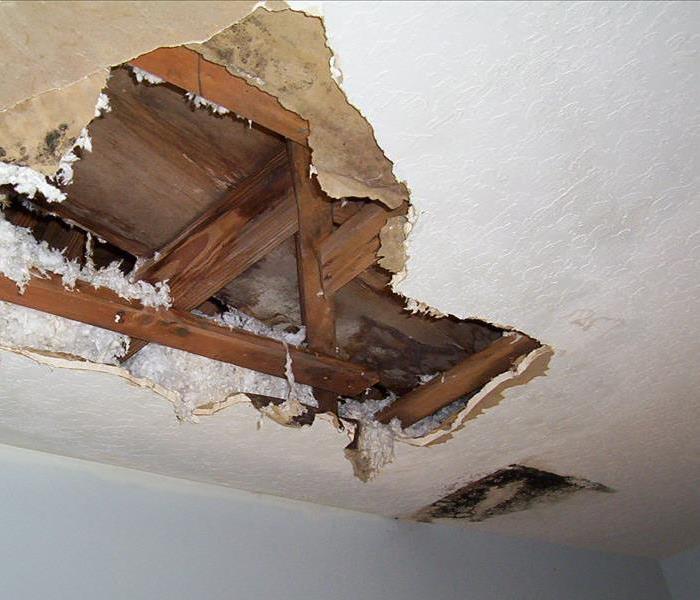 Water damage on your ceiling can happen to anyone and everyone, it may be from clogged pipes, faulty toilets, overrun showers or your neighbors upstairs. Whatever the cause, business owners end up facing the mess of sewer damage, an absolute physical, emotional, and financial drain. It's even harder when that break happens on the second story, allowing the polluted fluid to seep down below, ruining not just one floor but two. If this is the case, consider the following to get the building back to normal.
1. Have a Thorough Inspection
First, contact SERVPRO of East Honolulu. Our expert team have specialized equipment and knowledge. When they arrive on scene, our staff should begin to survey the damage, section off the impacted zones, and prepare a plan to sanitize your space or take care of the damage.
2. Take Care of Soaked Material
Unfortunately, most water damaged goods have to be cleaned heavy duty style. It's not something that is simply dried up due to the smell of most water damages. Our crew will begin removing the soaked flooring as well as the affected portions of the ceiling. If the liquid penetrated through, it may have harmed the downstairs. If that is the case, they could begin tearing out items from here as well.
3. Restore the Rooms
The flooded toilet and other fixtures may be replaced with newer items. The spaces are dried with dehumidifiers and then sprayed with antimicrobial spray. At this point, one of our contractors or your insurance's contractors begin construction, patching, painting, and replacing anything lost from the flooding. By the end, both floors should look like they did before.
Sometimes sewer damage is unavoidable. While you can't stop it, you can fix it. Seek the aid of experts who can lead and advise.
We do our part so everyone else can do theirs, and just like that it looks "Like it never even happened."