Making the Best Musubi!
9/15/2020 (Permalink)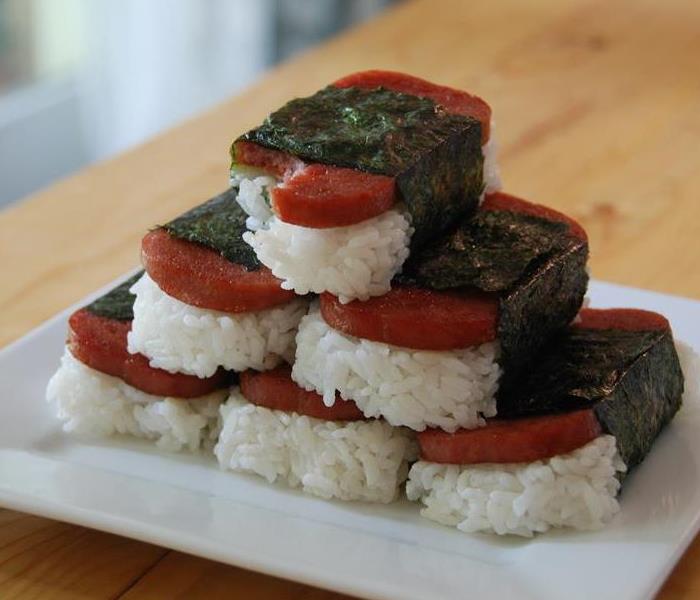 Here at SERVPRO of East Honolulu we are always on the go. Most of our workers stop by the nearest gas station, grab a quick bite whether that is an egg roll, musubi, or sandwich and head right back out to the field. We are constantly starting and finishing jobs and because of that we know what a good musubi tastes like!
We love all kinds of musubis too, there is nothing more satisfying than a katsu chicken musubi or a refreshing fried fish musubi!
For anyone wondering, a musubi is a Japanese food that here in Hawai'i has been incorporated into our culture. It is simply a type of meat on top of a slab of rice and carefully wrapped by nori or seaweed. This can come in all different types of nori and meats, but the classic musubi is a thin slice of seaweed and spam.
Spam is a cult classic in the Hawaiian isle, and it is absolutely delicious!
So here are some ingredients needed for the office favorite: teriyaki spam musubi,
- 1 can of Spam (keep the can, you'll need it for later!)
- 1 square sheet of nori, cut into 2 inch strips (this is for the individual musubi)
- saran wrap ( to wrap the musubi)
- Japanese medium grain sticky rice (this is important because this is the best and ultimate rice to make with musubis as it sticks well)
here are the ingredients for teriyaki sauce:
4 tbsp of sugar
1 tbsp of mirin (rice wine vinegar)
4 tbsp of soysauce
The steps for the teriyaki sauce,
1. mix all the ingredients together in a sauce pan on low heat until all the sugar is dissolved
2. set aside (this is what we will marinate the spam inside)
To make the SPAM:
1. cut the box of spam into about 1/4 inch slices, which is considered the perfect amount of meat. This will make about 5-6 slices per box
there is where you can deviate:
if you're making the musubis for the next day, in a baking pan place the slices of musubi into said pan and pour the teriyaki inside. Place into the refrigerator and place it over night.
1. the next morning, place the teriyaki SPAM slices into a pan with 2 tbsp of oil and cook until brown
2. make sure that your rice is super fresh, so you'll have to make the rice that morning or use a timer to cook the rice accordingly
If it's for today let's continue!
1. so get your cut spam and cook it in 2 tbsp of oil until it is a light brown and crispy, afterwards place the teriyaki sauce on top of the spam and let it simmer until it bubbles and tops the spam
next, put some cling wrap inside your spam container, coating the inside and enough to have remaining saran wrap to pull it out of the tin
1. place some freshly cooked rice inside the container that is coated with saran wrap and this will be about 4-5 tbsp of rice.
2. then place the spam, and firmly press the rice and meat together
3. once firmly set together gather the cling wrap and pull out the rice and meat
4. from there the rice and meat should be firmly together enough that when you remove the wrap it will stay, take on of your seaweed slices and places it on top of the meat and rice in a way that will help the musubi maintain its integrity. When you firmly wrap the seaweed around the rice and meat block place a little bit of water on both ends of the seaweed strip to lock the seaweed into place.
5. repeat this step until there are no more musubis, if there is extra teriyaki sauce you can use it to eat with the excess rice :)
And that's how you make a musubi! Enjoy it with aloha, and make sure you tag us on instagram to share your own rendition of this island favorite!
Our instagram handle is @ SERVPRO_east_honolulu